Bamboo Systems launches next generation server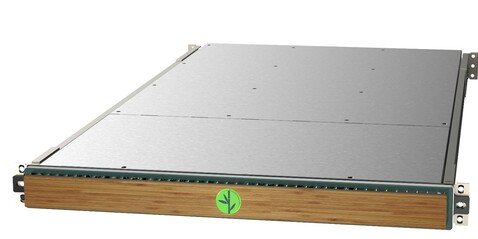 Bamboo Systems has launched its newest system, the B1000N Series, based on a new architecture, Bamboo Parallel Arm Node Designed Architecture (PANDA). This is a new approach to server design, crafted to meet the demands of both modern software structures and the challenge of energy-hogging data centers.
PANDA-based servers use embedded systems methodologies designed to run modern microservices-based workloads while consuming minimal energy and delivering industry-leading density for high throughput computing. Kubernetes-based applications, edge computing, data analytics and AI/ML deployments are solutions that are well suited for Bamboo.
"The x86 system architecture hasn't particularly changed since the 1980's and can no longer cope with the demands of modern application workloads or data center energy challenges," Tony Craythorne, chief executive officer, Bamboo Systems, said. "Without the constraints of legacy designs, we are able to deliver servers that are built for today's microservices-based software, but which consume a fraction of the energy of traditional systems. This enables compute densities never before seen and for a far less cost than that of legacy x86 systems. Our servers are the future of data center and enterprise computing."
Reducing bottlenecks
Bamboo's PANDA-based systems utilize Arm processors and deliver individually balanced servers by reducing many of the well-known traditional server architecture bottlenecks, often caused by very large processors having to share limited resources. "The future of data center computing relies on a robust ecosystem to bring unique and diverse solutions to market," Kevin Ryan, senior director of software ecosystem development, Infrastructure Line of Business, Arm, said. "Bamboo Systems' Arm-based server technology is another example of how the flexibility and diversity of Arm IP is challenging the status quo and transforming the way the industry takes on modern day server workloads."
Each B1000N system can be configured with either one or two blades in 1U, with each blade containing four compute nodes and a non-blocking embedded L3 switch exposing dual 40Gb QSFP uplink ports. Each compute node is an independent Arm-based server capable of running Linux, or other compliant operating systems. Nodes use a SolidRun COM Express Type 7 module utilizing the NXPSemiconductors Layerscape LX2160A with 16 Arm Cortex-A72 processors with up to 64GB of DDR4 ECC DRAM, hardware accelerated dual 10Gb/s network interfaces and an integrated PCIe NVMe drive, up to 8TB.
"NXP Layerscape processors deliver high CPU performance, high bandwidth communications and low power consumption, meeting the design demands of Bamboo Systems," Sam Fuller, director of marketing, NXP Semiconductors, said. "We are excited that the NXP LX2160A was selected for Bamboo's servers, which are ideally suited for important emerging workloads such as edge computing, containerized microservices, and more."
A fully configured B1008N consists of eight servers providing 128 cores, 16 DDR4 memory channels to 512GB DRAM, 24GB/s to 64TB of NVMe storage, fed through 160Gb/s network bandwidth – all in a single rack unit – at approximately 50 per cent of the cost of a traditional Intel-based server.
Bamboo servers include a web-based interface, the intuitive Pandamonium Management Software, based on Bamboo's REST API for integration with orchestration platforms. Pandamonium provides control over system configuration, status updates of components, and the ability to power off individual compute nodes if they are not being used, enabling additional energy savings.
"It is easy to see the value proposition that Bamboo Systems is bringing to the data center," Dale Foster, chief executive officer, Climb Channel Solutions, said. "The company's servers break the mold with embedded systems that provide high throughput in a dense configuration. They are truly state-of-the-art. We are excited to rep the new B1000N Series in the channel and feel confident that for every customer that comes on board, we will have provided them with a pathway to a powerful, economical and environmentally friendly data center."