Data centers and other digital infrastructure consume large amounts of electricity and are obligated to fully document the source of the power they are consuming. Documentation concerning the origin of the power that is consumed is increasingly becoming a prerequisite for the ESG obligations of both data center operators and their customers. How the electricity data centers consume has been produced remains a serious matter for the industry, and could have a huge impact on the renewable energy transition.
As one of the fastest-growing energy-intensive industries, digital infrastructure is well-positioned to help the funding and development of lower carbon intensity in the grids that supply them with power. At present, however, the industry lacks the knowledge to source and document renewable energy in a credible way. In most cases, there is a lack of understanding about the direct impact that their energy procurement has on net-new renewable energy generation.
Too often, data center operators believe their obligations have been met if renewable energy is mentioned in their electricity contract. As an industry, we have the opportunity to set the standards for sustainability and truly understand the origin of electricity that is consumed by directly funding net renewable energy production, and moving away from 'green washing'.
Due to the complexity of energy markets, observing the line between a box-ticking exercise and making meaningful decisions that will engender real change is a difficult process. In Europe, for example, a system for renewable energy with a guaranteed origin is in place, but how often do data center operators truly know the exact origin of the electricity they use?
Our research has shown that often when the electricity supplier says that an electricity contract is for renewable energy, it is not pursued further by the contracting company. In other words, operators are unaware of the name and location of the power plant(s) that they are sourcing their power from. This should be the norm, given the current pressure on the industry and the positive impact that the sector could have on net-new renewable energy generation.
It is relatively straightforward for data centers that are committed to making a real impact to have an exact match between consumption and production, showing when the electricity was produced, and when the data center consumed the electricity. Equally, it is possible to have complete transparency around the amount of the money – related to the documentation of renewable energy (the guarantees of origin) – that actually goes to the producer, and how it is spent. This should be the 'Gold Standard' for the data center industry, and the steps that all new and existing operators should be taking to understand the true environmental and climate impact related to their own energy consumption.
The data center industry, therefore, needs to move away from generic, unsubstantiated statements to sustainability communication that is based on tangible facts and documentation.
According to our research, the industry's ability to communicate the impact of its energy demands faces a real challenge, as more often than not they cannot fully document it. This, in turn, leads to a lack of credibility for the industry, and data center operators suffer from a lack of tangible evidence that they could otherwise present by having a fully documented renewable energy claim.
We are in a 'climate emergency', which has the potential to be an extinction-level event. We have known about the challenges for years, with the first UN Earth Summit taking place in 1992, nearly 30 years ago. It is not a strong enough commitment for any company, least of all a data center operator, to have a goal of being 75 per cent renewable by 2025.
A 24/7 renewable energy matching solution that can truly impact net-new renewable energy production located within the vicinity of a data center is already available. With this, the digital infrastructure industry is perfectly placed to help drive the renewable energy transition.
So, if you are a data center operator and are looking to make a real impact on net-new renewable energy, here are some practical ways to make a real difference.
Firstly, when claiming renewable energy, it is important to be specific on what the claim is and how this is documented. It is not enough to simply claim you have renewable energy in your power contract, as this only pushes the responsibility for the correct documentation either upstream or downstream.
Remember, if it is done in the wrong way, claiming renewable energy can put your reputation and brand at serious risk. It can even have a materially negative impact on contract negotiations with new and existing customers. Done correctly, a company can significantly increase brand value and help in securing and retaining new clients.
The hyperscale operators are already far along this journey, going beyond general and undocumented claims to renewable energy.
The key things to think about when sourcing renewable energy are transparency, documented claims, and positive impact. It is time to help reverse the negative perception towards data centers in the media by correctly documenting renewable energy, and moving towards being an asset to local electricity grids. Customers are moving beyond requiring that the power they consume is renewable; they are seeking to add additional renewable capacity to the grid over and above this.
The correct use of renewable energy is increasingly becoming a competitive advantage in the data center/cloud computing industry. But documenting minute-by-minute renewable energy usage is much harder when you are not the size of Google or Microsoft. That is why getting the correct partner to help you do this can be the difference between success and failure.
I have recently started working with one such company that I believe can help remove the pain points for operators that are looking to do the right thing where renewable energy documentation is concerned. The right partner can make sure you receive the correct documentation, including the actual impact of sourcing renewable energy with a guaranteed origin. They should also facilitate the ability to choose the location, energy-generating technology, and degree of impact of your investment.
The company I am advocating to provide this service is Becour. Their proprietary platform allows you to select additional functions such as eco-labels and future-build, together with reinvestment in renewable energy. They can also give you access to proof of purchase, cancellation statements, and hourly 24/7 matching of production and consumption, as well as full portfolio administration and full access to communication materials.
One of the most important things to consider when selecting your renewable energy partner is not just transparency in the origin of the power, but also transparency with regards to cash flow. This helps ensure awareness about how much of the money you spend is actually going directly to the producers, creating more credibility when sourcing renewable energy.
Companies like Becour have an 80-20 per cent guarantee, whereby a minimum 80 per cent of the money they receive will always end up with the producer of renewable energy.
To put this in perspective, the Oslo economics report analysis of the Guarantees of Origin market from 2017 shows that only 20 per cent of the GO customer price in Europe went to the energy producer.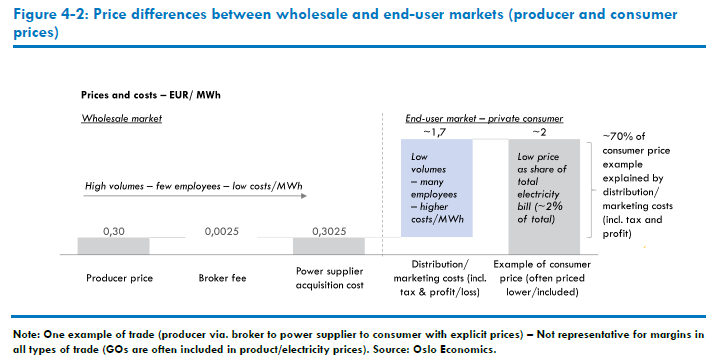 As a data center operator, it is increasingly becoming your obligation to enable renewable energy documentation in the value chain, so that your clients can claim renewable energy for their workloads. Taking the right approach at the energy procurement level will accelerate the renewable energy transition, and ensure that the digital infrastructure industry takes a significant step to becoming completely sustainable.
If you are interested in an independent assessment of how you are currently dealing with this aspect of your business, feel free to contact me via email – dan@rockscar.com – and I will give you a personal introduction to a trusted group of experts that can help.
The next stage is to see how you can dramatically reduce your scope 3 emissions, and use a credible offset for your embodied carbon.