This is the third article from our series dedicated to the release of the SDIA report:
The Utility of the Future – Where digital and energy infrastructure combine.
Download the executive summary here and stay informed about its full releases here.
Over the last decade, Hyperscale data centers have successfully driven down the cost of many digital services by aggressively pursuing technologies that optimise utilization rates, and leverage economies of scale. However, latency, sovereignty & resilience are the new challenges to the "Instantaneous, always on" digital economy that we as consumers are coming to expect, and as the digital economy is expected to provide. Hyperscale data centers are responding with a unique and utterly brilliant architecture – the redundant Urban Gridiron, or grid for short.
Hillbilly Hyperscalers…
In the early days of the hyperscale trend, major cloud computing campuses were often built in rural areas where land was cheap and access to reliable, renewable power was not so restrained. This helped create data centers and huge building booms in rural areas. The Nordics, Ireland and Iceland (referred to here as the Northern Ring) became increasingly favorable European destinations among hyperscale as a result.
The Northern Ring was previously thought of as quite well connected, and could act as a bridge between different markets, for example: Ireland and Iceland connect Europe with the US, Sweden & Finland have good connections between continental Europe and Russia, whilst Norway & Denmark connect with the UK and continental & Eastern Europe (Li et al., 2019). However, newer workloads demand lower latency.
Reducing Latency through Urbanization
Hyperscalers are starting to urbanize as new latency sensitive workloads such as in Artificial intelligence, Gaming & IoT applications push data centers closer to end users. The digitization of our economy is projected to generate an ocean of data, fed by a growing universe of intelligent things—sensors, cameras, smartphones, tablets, drones, robots and connected cars. IDC predicts that the "global datasphere" will grow from 33 zettabytes (ZB) in 2018 to 175 ZB by 2025.
"It's forcing a shift, with the hyperscalers now moving services closer to the users. The cloud guys built their data centers where power was cheap. Now latency is a huge issue."
Phill Lawson-Shanks, CIO at EdgeConneX
Sovereignty through Locality
Hyperscale urbanization is being pushed by the need to serve customers faster, but it's also being pulled by the regionalisation of the internet. Data Sovereignty is effectively undoing the global nature of the internet. Governments across the world are demanding data be anchored, if not physically then certainly jurisdictionally, by certain laws.
The EU's General Data Protection Regulation (GDPR) is a perfect example of such measures. Though nominally a privacy measure, it pins the otherwise unregulated nature of data to a certain jurisdiction. China, Russia and Australia are producing their own form of GDPR, and we can expect the US and the post-Brexit UK to follow suit. To satisfy latency and jurisdictional challenges, hyperscalers are becoming more local.
Resiliency Through the Gridiron
The top tier of hyperscalers have been creating a resilient gridiron – or grid – to improve their system resilience. "Availability zones" cluster data centers within a region to enable customers to run applications in several different locations to avoid single points of failure. This is a very effective approach to improving resiliency of the "system", having acknowledged it's difficult to find more improvements in the availability of the individual data center. Essentially, redundancy through a redundant grid.
"Traditional Infrastructure housed in one physical data center location increases operational staff efficiency and makes shipping and receiving more convenient. This approach, while delivering some benefits, lacks the scale and resiliency of cloud availability zones that many workloads require". Randy Rowland, President of Data Center Services, Cyxtera.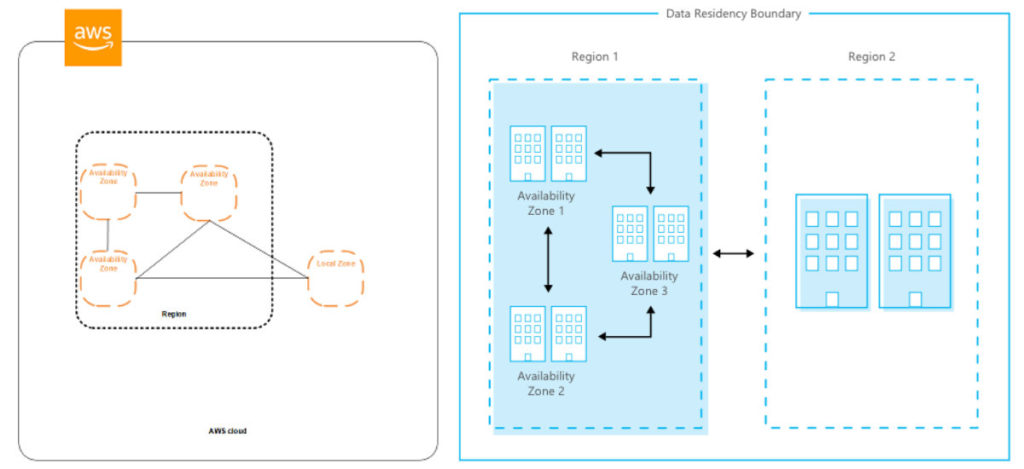 Creating redundancy through an interconnected gridiron is not new. The SDIA has, for a long time, pointed out the similarities between electricity and digital power. The Electrical world 100 hundred years ago did something similar, which allowed it to get rid of a melee of smaller, independent electricity generators. Larger players could leverage their economies of scale to drive down cost, and interconnect their generators to improve system reliability.
"In 1925 Lord Weir chaired a committee that proposed the development of the Central Electricity Board (CEB), which would connect the most efficient power stations in Britain. This link would be established with a 'national gridiron'. 1935, the National Grid was born. There were seven grid areas established across Britain with control rooms in several major locations." History of the UK National Grid
Sound familiar? It should. For the data center world Availability Zones create redundancy within a Region, the gridiron creates redundancy across Regions. Hyperscalers are still only part way through their global expansions of regional gridirons, and hyperscalers will continue to invest in subsea cables, cable landing stations, network nodes, and edge data centers, all of which become part of the global gridiron architecture. Capital expenditures by hyperscale providers grew 43% in 2018 to almost $120 billion, according to Synergy Research.
Amazon AWS spent $26 billion in 2019 on hyperscale Capex. AWS currently operates 24 regions and 67 availability zones.
Microsoft spent approximately $17 billion on hyperscale data center Capex in 2019. Azure public cloud operates more than 60 regions in 140 countries.
Google was the second-highest hyperscale data center spender in 2019, investing nearly $24 billion in Capex on a global basis. Google operates 22 regions and 67 availability zones.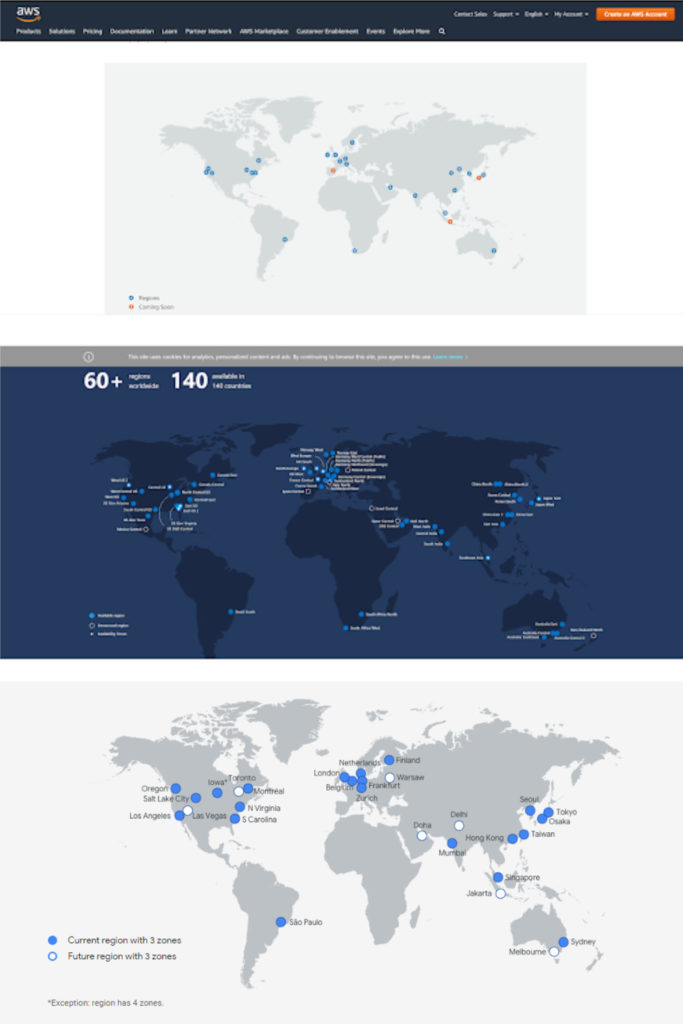 What are the challenges to the Urban Gridiron?
An interconnected Urban Gridiron is not without its difficulties. The reason Hyperscalers moved out of town is because of a lack of space, and a lack of power. Urbanizing won't be easy as urban electric grids are strained enough already.
With huge amounts of excess heat, hyperscalers can't simply set up shop anywhere. Urban environments on the one hand offer more opportunities to recycle waste heat into district heat grids, but finding suitable sites is easier said than done. "Land banking" will be very important in the coming decade amid rising prices and a dwindling supply of premium sites.
This is especially true given the hyperscale market is large, fast growing and shows no sign of slowing down. By 2022 the hyperscale market will be worth ~$71.2 billion (Allied Market Research, 2016), and another 200 hyperscale facilities will have been built worldwide, bringing the total number close to 600. In my next article I will talk about the many ways the urban gridiron can be delivered sustainably, and how the urban gridiron can in fact aid in the sustainability of the digital economy.
Summary
The need for lower latency and data sovereignty compliance will shift more huge data centers to the suburbs of major cities such as Frankfurt, London, Amsterdam, Paris, Dublin and others. The need for better resiliency will result in redundantly connected availability zones and redundantly connected regions. The resulting architecture will be an Urban Gridiron, and the resulting digital economy will be fast, compliant and reliable.
Mohan Gandhi
Mohan is Head of Research & Policy at the Sustainable Digital Infrastructure Alliance. The SDIA's mission is to ensure digital infrastructure has a net zero impact on our environment, and is accessible and affordable to the next generation of innovators. As Head of Research & Policy Mohan leads the working groups in their attempts to solve major technical barriers to a truly sustainable digital infrastructure. Mohan authored the report "The Utility of the Future – Where Digital and Energy Infrastructure Combine".