Green data centers require green electricity. Ideally, every hour, every day, all year round. When you drive through the most northern state of Germany, Schleswig-Holstein, you experience a pioneer region in terms of renewable wind and solar energy production. While driving along the west coast to visit one of our members' new data centers, the SDIA team was able to witness the high density of renewable energy assets from the road. One large wind park after the other and solar cells on every farm roof. The total energy production for the year far exceeds the region's own demand. A good location for a green data center?
That's what the founders of Windcloud thought. Arriving at the GreenTec Campus close to the Danish border, Wilfried Ritter welcomed us to their new site located in the heart of a renewable energy region. The pilot site with capacity of up to 80kW aims to take advantage of this, but Windcloud doesn't want to stop there. The unusual appearance gives a hint on what else is going on here.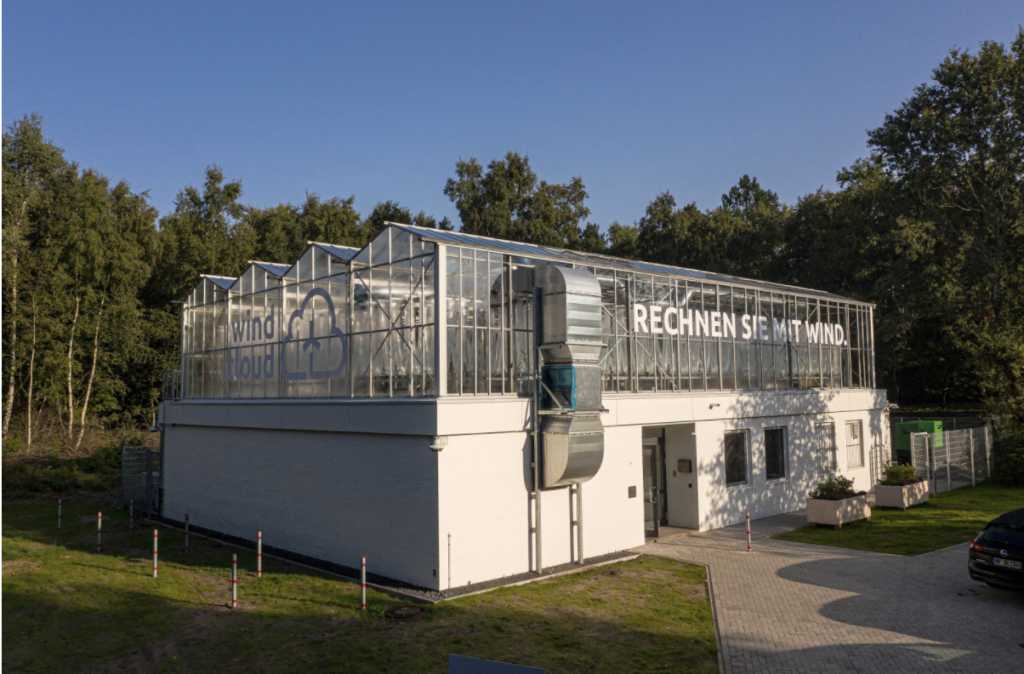 Renewable Energy in Germany
One of the challenges of supplying 100% green energy is that the actual physical energy mix is dependent on the location and when energy is needed. A data center closest to a coal plant will physically consume CO2 intensive electricity most of the time. Even a data center next to a wind plant doesn't run on clean wind energy if there is no wind. This problem appeared to be solved via certificates of origin given by green energy producers. However, this tool showed to be nothing more than number shuffling and led to the absurdity that green energy providers purchase certificates from, e.g. Hydro Energy in Norway to wash German coal electricity green. Arithmetically, energy consumers in Norway thereby emit CO2 via German coal plants.
Choosing one of the densest locations for renewable energy in Germany, Windcloud sets their data center up to run on renewable energy almost entirely. The availability of solar and even a good share of adjustable biogas plants even out no-wind days to a certain degree and increase the physical availability of green energy.
For the future, Windcloud wants to optimize this concept with Green Power Purchase Agreements and real physical connections to renewable plants. Potentially a promising concept also to secure revenues for 20-year-old wind turbines which face the discontinuation of subsidies.
New industries benefit from data center heat
The question of how to utilize data center excess heat has proven to be one of the major barriers for recovering it from servers in the first place. Low-temperature levels have long been argued not to be suitable for actual integration into existing heating demand or heating grids. Conversely, we have two trends moving towards each other. The first one is that excess heat temperatures of data centers rise and today reach levels of around 60C. The second one is that heating systems are designed with decreasing temperatures as well. Large surface heaters like wall or floor heating or comprehensive air conditioning systems work with as low as 40C.
Windcloud, on the other hand, is not waiting for facility engineers to discover data center heat potential. They have identified heat as a location factor for numerous industries and won over Novagreen, an algae farm company, to co-locate a new greenhouse on top of the Windcloud data center. A feature that gives a futuristic look to the data center. The algae farm requires consistent temperatures throughout the year. Heat which the farm otherwise would have to produce and pay independently, causing additional CO2 emissions. In this case, both industries benefit from each other.
Algae farm as CO2 sink
Windcloud and Novagreen grow two types of algae in their greenhouse that can be used in the nutrition supplement and cosmetic industry. In that process, the algae production absorbs CO2 from the air. It thereby functions as a CO2 sink absorbing 2kg CO2 per 1kg of the algae product.
It needs to be said this kind of CO2 sink only has a temporary effect. The absorbed CO2 will be rereleased when the algae is consumed as a food supplement or decomposed. Nevertheless, an innovative concept that underlines the climate positive concept further.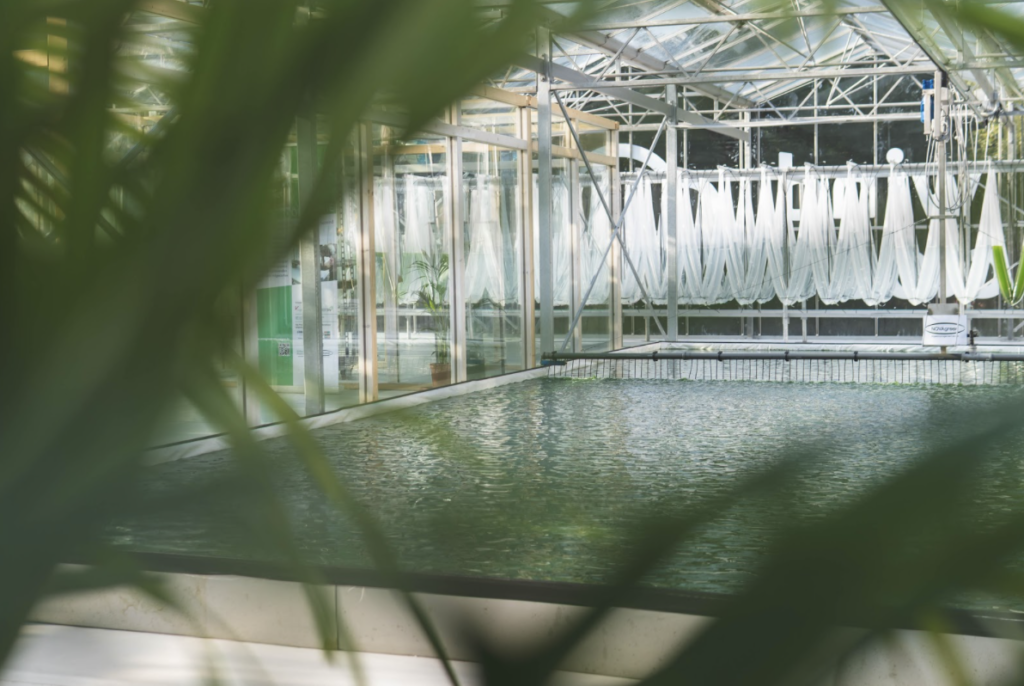 Innovative locations provide a competitive advantage
When you look for data centers within Europe most of them can be found in the major hubs like Frankfurt, Amsterdam, London and Paris, followed by smaller cities like Nuremberg, Stockholm, Copenhagen. Data centers usually go where they find the best broadband connection and where energy is found. The proximity to customers including the financial services sector in general, industrial customers or governments is still a significant location factor. North Germany appears to be an unusual decision for a data center.
Looking a little bit closer, the new Windcloud facility does not only benefit from green energy in the region but also low prices for properties and abundance of sites, including old military complexes. The current location is directly connected to a major fibre backbone crossing the German/Danish border with proximity to Hamburg, Copenhagen and two large submarine cable stations in Esbjerg and Nørre Nebel allowing fast connections to the US, London, Amsterdam and more, making it an interesting alternative to the increasingly competitive major hubs.
Outlook: Energy flexibility, alternative UPS and flexible solutions for every location
For the future, Windcloud has numerous concepts of further developing its green concept for data centers. A variety of designs cater to different locations depending on climate, energy sources, heat demand etc. In combination with modern UPS systems based on salt-water batteries, hydrogen and energy flexibility services, the plans of designers aim to consistently support renewable energy supply for their data centers.
Everything Green?
So, does that mean everything is green now and we can all go home? Probably not. While Windcloud is among the most comprehensive and thought-through projects we have seen, their new data center is a pilot facility which leverages the current possibilities in technology, industry and regulation.
While the facility benefits from high shares of green energy, it isn't yet available all the time. With larger facilities, the periods without renewable energy and dependency on adjustable energy supply will increase if we are not able to effectively work on storage and flexibility solutions for the whole market as well as consumers individually. Windcloud describes UPS flexibility, salt-water batteries and hydrogen supply in their long-term plans which are supposed to further back up their ambitions to supply their data center with 100% green energy.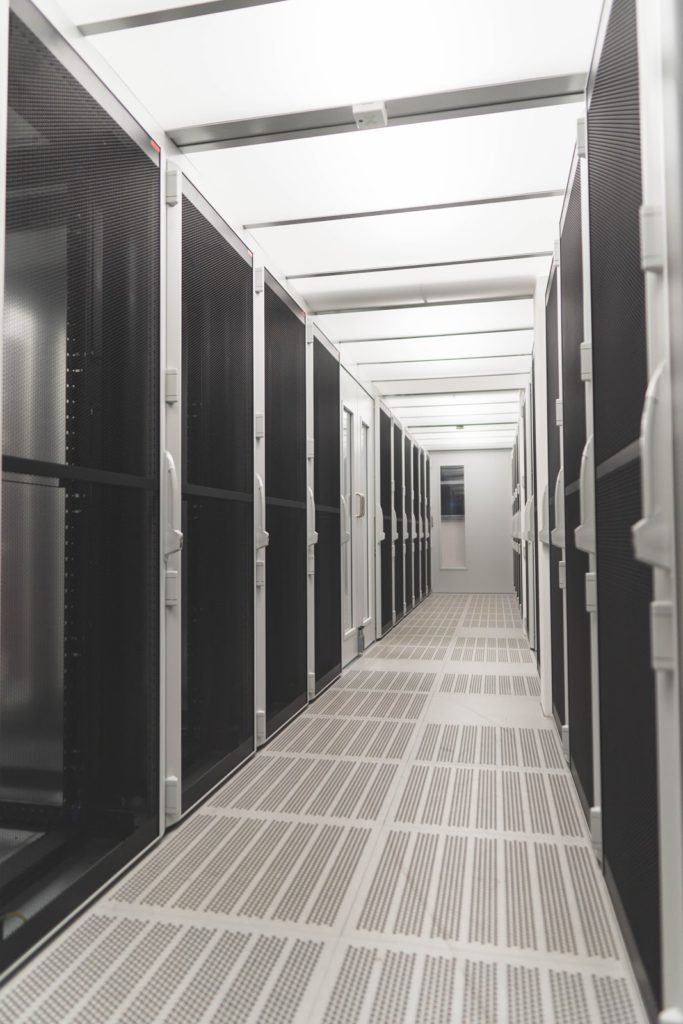 Another challenge that needs to be tackled finds itself outside of the scope of data centers' operation. The embedded environmental impact of hardware is equally important to consider. Climate gases and pollutants during the sourcing of materials, production of IT components and their disposal have global, regional and thereby also social implications. There is no alternative to continuously monitoring and improving these aspects within the whole hardware supply chain as well to enable sustainable digital infrastructure. As Windcloud states they currently trust in Dell hardware for their data center but aim to monitor and possibly optimize their hardware supply chain sustainability in the future.
Last but not least concepts like those from Windcloud are dependent on demand. Rolling them out at scale and making a real impact requires awareness about these issues in society, industry and politics.
Part of the SDIA
The SDIA supports members like Windcloud by further raising awareness, developing a roadmap and supporting research in their field. With more than 30 official members and a rapidly growing network, SDIA fosters collaboration and acts as a catalyst for sustainable digital infrastructure.